Even though you're only staying at home amidst this pandemic, it doesn't mean that you can stay in your bed and do nothing. We know that a lot of gyms are still closed, and even though they have re-opened, it must be worrying to go to a public place with the current condition, right?
It's okay, there is still a way for Rukees who are trying to live the healthy lifestyle without having to go out or pay for a workout session. You can do it by joining the online Wellness Session led by Coach Purna Rocky!
Doogether Special Promo for Rukita Tenants aka Rukees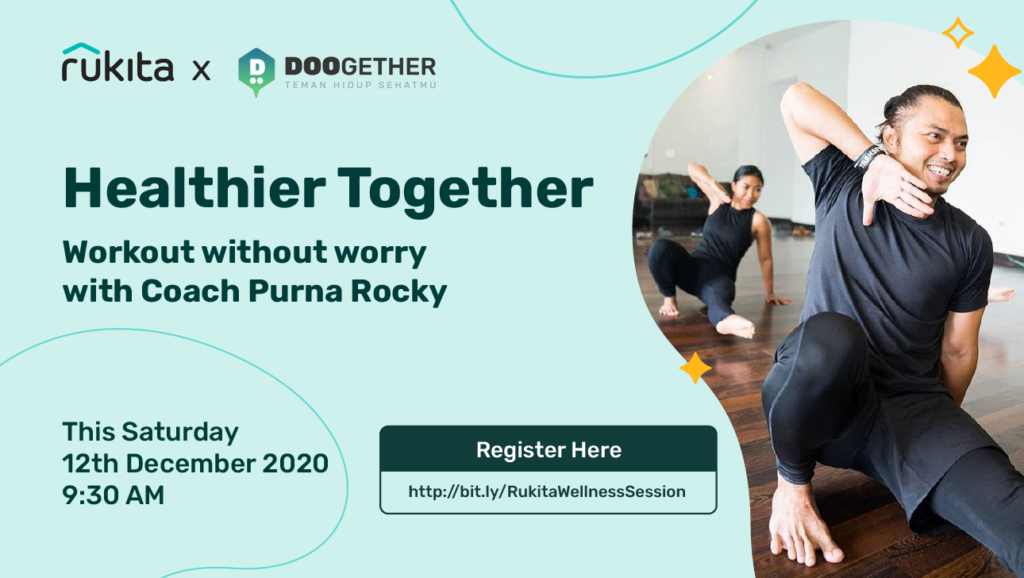 Rukita and Doogether is having a special promo for Rukita Tenants aka Rukees. With Doogether, you can try a body workout class for free with Coach Purna Rocky.
This collaboration is only available for Saturday, 12 December 2020 on 9.30 AM. So, make sure you don't miss it!
Are you curious as to how you can join this special Rukita x Doogether promo? Check out below for more!
How to Join Body Workout Class for Free with Doogether
You can join the body workout class led by Coach Purna Rocky on 12 Decmber 2020 on 9.30 AM for free with a very easy way. Just follow the steps below!
Click the registration link here
Scroll to the bottom and click "Book"
Fill our your personal data, and scroll to the bottom to click "Next"
Check on Guest Detail and pick payment method
Pick whatever payment method (because the class is free, your balance will not be cut) and click "Choose"
Scroll to the bottom and click "Pay"
Click "Yes" on Process Payment pop-up
What are you waiting for? Start your healthy lifestyle by exercising together with Doogether! You won't get another chance to enjoy another free exercise class soon. All you need to do is open up your yoga mat in Rukita's communal area and enjoy the class. No need to worry about the pandemic!