Terakhir diperbarui: 11 Mei 2022
Usher in the New Year's Eve like the locals!
With a quick Google search on 'How to celebrate New Year's Eve in Indonesia', you will be led to numerous search results on New Year's Eve parties in Jakarta and other major cities here in Indonesia.
Although it is typical of most hotels, resorts and bars to host events on the last day of the year and a small handful of locals do take part in them, it would be good to note that in fact, the majority of the Indonesian population does not celebrate New Year's Eve that way.
Most of them either celebrate it at home with their families or join the local celebrations held in their native cities.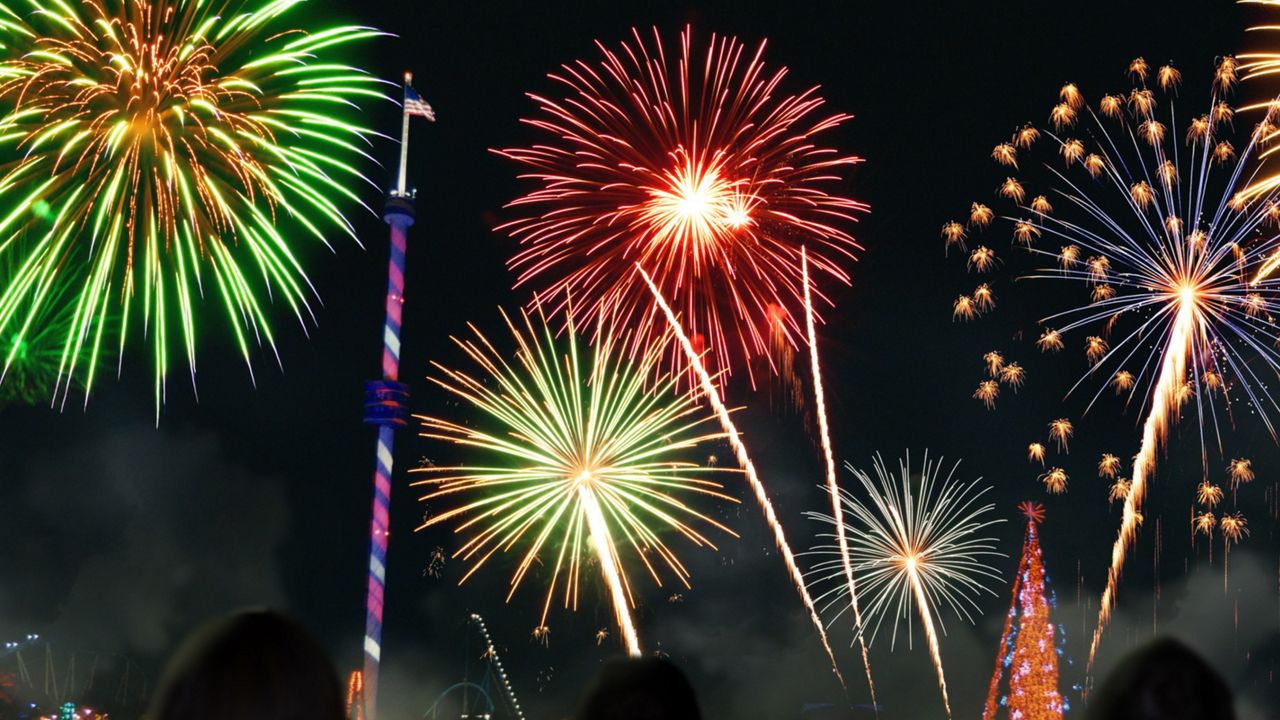 It is customary for the city's government to host events and parades on the city's main street to entertain its people. In some areas, you can also find traditional events and day-long festivals.
If you are in Indonesia this New Year's and want to try something new and exciting, do try celebrating like the locals, the Indonesian way. After all, when else are you going to get such an opportunity.
How Nine Different Cities All Over Indonesia Celebrate New Year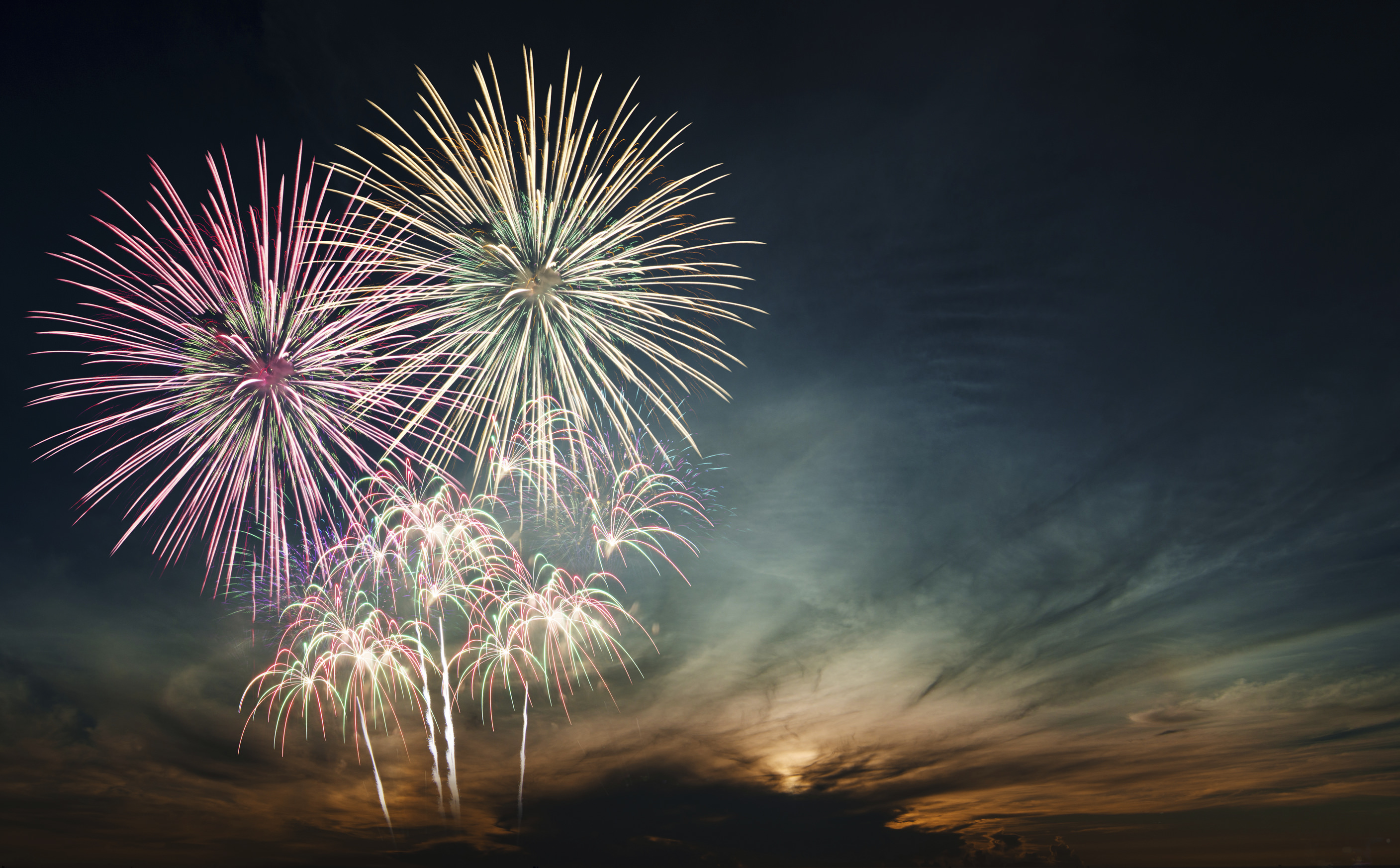 Everything from a local celebration right in the middle of town to a month-long celebration, you will be spoilt for choices here in Indonesia.
Every city has its own unique take on ringing in the New Year and you are totally welcome to join in. The more the merrier indeed!
1. Jakarta – Governor Celebration and Huge Firework in Ancol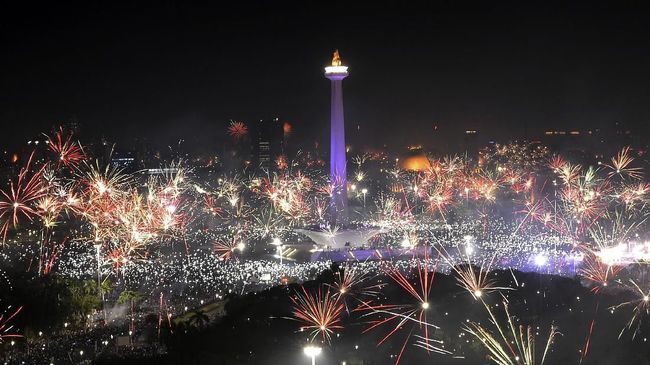 Apart from the small-scaled parties all over the city, there are two major New Year's Eve celebrations that take place in Jakarta.
The first celebration is hosted by the Jakarta provincial government along the streets of Sudirman-Thamrin. If you happen to stay around these areas, just be sure to pop by.
The events mainly consist of mass weddings, a bazaar conducted by small medium enterprises (SMEs) and live music. Just last year, the government conducted a mass wedding for around 500 couples.
After all, what better way to start the new year than with a new spouse, am I right?
The event is conducted by the government to give the opportunity for poorer couples to get married legally under state law so that their marriage can be legitimized.
The government had chosen New Years' Eve as the day for the mass weddings so that of the entire nation and the world will be celebrating along with these couples on their special day.
The SME merchants come from over 44 districts in Jakarta to sell their products at the bazaars. The products range from clothing to handmade goods and the bazaar is aimed at growing local Indonesian brands and helping them to understand their consumers' interest, hence expanding their market.
The second venue for the NYE celebration is Ancol, where visitors will be entertained with live music performances by top musicians from all over the country.
In addition, there will also be firework displays at three locations namely Beach Pool, Carnival Beach and Mermaid Resort, which usually last for around 15 minutes. So be sure to get your camera ready to snap away as you would not want to miss out on the breathtaking sight.
2. Dieng – Lantern Festival at Sikunir Hill
This lantern festival is such a popular New Year's Celebration among tourists that there are even 2D1N tours for it! It is a common tradition among tourists to visit Sikunir Hill in Dieng, Central Java to celebrate Christmas and New Years.
Here, they will climb to the peak of the Sikunir Hill to enjoy the picturesque city skyline while ushering in the New Year.
Although tourists will begin landing in Dieng, around the Christmas period, the flood of them will arrive around New Years' Eve.
The highlight of the entire event is the 1000 Lantern Festival, where spectators will release 1000 lanterns into the sky. Just last year alone, over 3000 tourists from all over the world attended the event.
The sight of the golden lanterns against the dark sky creates a serene atmosphere that leaves you in awe. Trust these tourists, it is a sight that you have to come and see for yourself!
It is interesting to note that prior to the tradition of releasing lanterns, people used to light up a thousand candles along Lake Cebong instead.
However, this practice has been long gone ever since the water levels in the lake began receding, which made the lake bed to be visible. Let's just say it was not a very pretty sight.
If you are one who loves a good hike up mountains and enjoys beautiful scenery then there is no better way for you to celebrate your holidays.
Read more: Co-Living and 'Kost': What Makes Them Different?
3. Surakarta – Car Free Night
Since fireworks and firecrackers are banned in the city of Surakarta, starting from 2018, the eagerly awaited inaugural segment of the New Year's Celebration has been replaced by the beating of gongs instead.
The event consists of a gamelan, or traditional orchestra involving around 75 gongs. The highlight of the event is the ringing of sirens and gongs by the Mayor of Surakarta.
The New Year's Celebration is also called 'Car Free Night' and this is with good reason. The roads of Jalan Slamet Riyadi from Purwosari to Gladag will be completely shut down.
This is done as the city's mayor wishes for its residents to celebrate New Year's in a more down-to-earth way, by sitting down and enjoying the traditional performance arts put up for the people.
A city known for its traditional arts and cultures, Surakarta aims to celebrate the New Year's by commemorating its art. Five huge stages are built for the performances and the lineup includes a variety of traditional arts and dance events, jazz, keroncong, percussion, puppets, and religious music.
For those who would like to celebrate this New Year's in a more traditionally Indonesian way or if you are a fan of performing arts do check this event out.
4. Magelang – NYE Celebrations in Borobudur
Perhaps if you are looking for something similar to watching the ball drop in Times Square, you're in luck as Magelang has you covered.
For the more religious who wish to celebrate New Year's in a temple, don't worry, there is something for you too! You can head down to Borobudur, which is right outside of Yogyakarta.
There will be several art live performances in front of the temple and the event will be concluded by a lantern festival.
During the lantern festival, numerous lanterns are released into the sky to light up the night sky as a symbol of gratitude and prayer for the passing year and as well as hope that the coming year would usher in blessings.
Last year tourists and locals released 1,500 LED lanterns into the sky. LED lanterns were used instead of the usual flame lanterns after the lanterns caused a fire a few years ago.
5. Bali – Denpasar Festival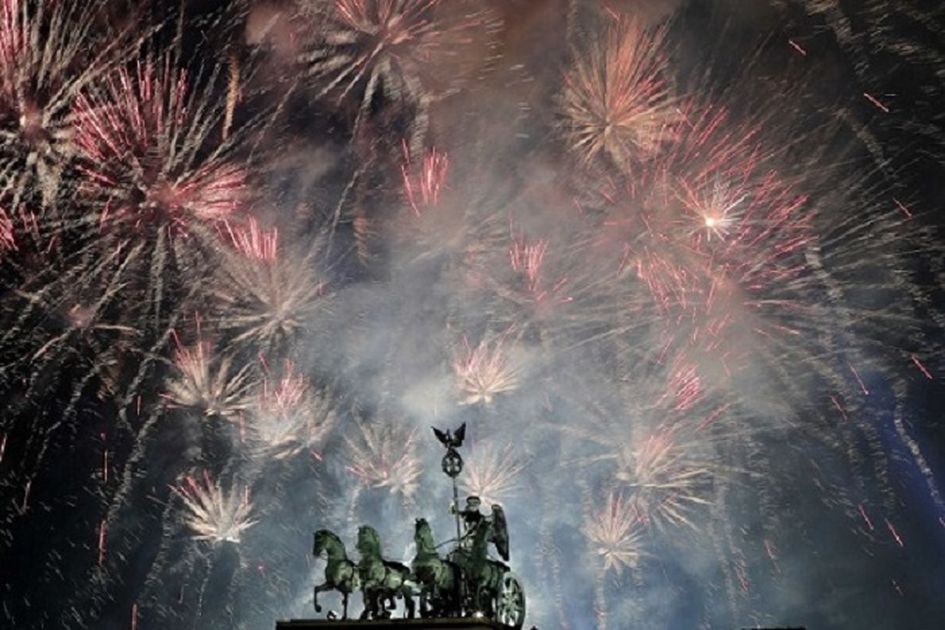 Denpasar Festival has been celebrated since 2008 to welcome the New Year. Although most people around the world celebrate New Years on the 31st of December, here in Bali, they start the festival much earlier on 28th December!
The celebrations are typically held at the Patung Catur area of Gajah Mada street in Denpasar.
This festival commemorates the passing year and signifies happiness and sustainability. Every year, there is a new theme for the festival and it consists of eclectic exhibitions and ethnic musical performances by Balinese artists.
The event is also concluded with a dance parade and Dadong Rerod opera.
The festival consists of an array of exhibitions, seminars, talk shows, art and cultural entertainment, aimed at allowing tourists across the globe to experience the diversity and cultural richness of the beach city of Denpasar.
For the foodies, be sure not to miss out on the Culinary Festival where you can find vast collections of fresh seafood and local delicacies such as Lak-Lak Bali, Lawar, Nasi Campur Bali, and even contemporary food such as gelatos and pastries.
Pack your bags to experience an authentic Balinese cultural experience like no other.
6. Toraja – Lovely Desember Toraja
Lovely Toraja or Lovely Desember, is a must-see event that starts on 1st December and lasts the entire month of December up until New Year's Day.
There are so many activities and festivals packed in this huge event, such as Getaran Sukma Suci, Coffee Festival, Culinary Festival and various Christmas events.
Regardless of whether you are a caffeine addict, biking enthusiast or a camera hog, there is something for everyone here. Come and take a look for yourself.
On New Year's Eve, Lovely Toraja will hold Folk Art Performances, Ma Barattung, and the Fireworks Party. This event is aimed at promoting Toraja as the New Bali to tourists by exposing them to Toraja's rich culture, arts and cuisine.
It is absolutely mandatory that you visit this event that is featured in the 'Top 100 events of 2019' list drawn out by the Ministry of Tourism.
7. Lombok
If you can recognize Bali in a second, how about Lombok? Lombok is an island east of Bali and just a ferry ride away, but less famous than its neighbor. If you want to get away from the crowds of Bali then Lombok is a great place for your vacation.
From party in Gili Terawang, hike all the way up Mount Rinjani to meet the locals at Tetebatu Village are just short list of activities you can choose while in Lombok. 
There will be fireworks and a campfire with live music all night long for both tourists and the Lombok folks. If you feel want to spend New Year's Eve partying all night long, then coming to Gili Terawang is the best decision you've made.
Meno and Gili Air are other options to spend the new year's eve if you want the less crowded beach like Gili Terawang. Just like in Bali, restaurants and cafes in Lombok are typical wills held end of the years party to spend. 
Spend the last day of the year with your beloved one a cozy room in a hotel or villa sounds great, right? Don't worry about the meals and all new years eve needs, since you can always get some help from hotel staff.  
8. Yogyakarta – Fireworks Party 
New year's eve in the city of Yogyakarta are no less festive! Many popular places here in this culturally rich city are mostly holding a party together with the natives.
Over here, people gather at the North Square in the Yogyakarta Palace and countdown to New Years. After which they will be able to enjoy the spectacular sight of the firework display lighting up the sky.
Heading straight from the North Square, you will arrive at the famous Malioboro Street, where you will be able to enjoy the traditional shadow puppet show known as the Wayang Kulit Performance. It will be held all night long (yup, no joke) in front of the Yogyakarta DPRD's Senate office.
But you can't miss the fun of firework party at Titik Nol Yogyakarta or Zero Point Km Yogyakarta, the most historical area in the center of the city on new year's eve. 
As this area is really close to tourist center, Malioboro Street, the new year's celebrations here are always lively.  Many tourists and locals gather together to wait for 12 o'clock at night. It's when the highlight of the fireworks starts!
While watching the fireworks, you can spend a great time with your friends and family while having a late night local street food in Yogyakarta such as angkringan, nasi kucing, kopi jos, wedang ronde, and so on. 
9. Maluku Tengah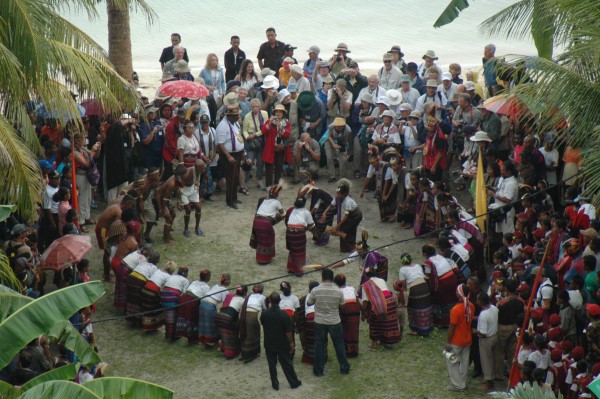 How do Maluku people celebrate the new year's eve? It turns out that the way they welcome new year's eve is by holding a tradition called Badendang Rotan.
The locals will hold rattan, sing, and then go around the village together in this tradition.
The most exciting part about Badendang Rotan is when the leader of the group will give a signal at certain times, it is when the residents should be ready to pull the rattan from one another like a tug of war. It's really fun to watch!
---
As you have seen there are so many ways to celebrate New Year's Eve in Indonesia, besides partying it out in the club.
Maybe it is time for you to try something new, something that you will not get to experience anywhere else in the world. Do check these places out this New Year's Eve for an unforgettable New Year. And oh yes, wishing you very happy years ahead!
If you are looking for a long-term cozy coliving place in Jakarta, Rukita got your back! You can spot Rukita's coliving places in many areas in Jakarta, Bogor, Depok, Tangerang, Bekasi, Bandung, Surabaya and Malang. Click the button down below to find out more about Rukita!
Don't forget to download Rukita App on Google Play Store or App Store. Nikita or Rukita's customer services are also ready to answer all your questions at WhatsApp +62 811-1546-477. Feel free to check our website at www. Rukita.co!
Find Rukita on Instagram @Rukita_Indo and Twitter @Rukita_Id and don't hesitate to follow us!
Categories
Tak Berkategori