Terakhir diperbarui: 18 Agustus 2020
New to town and not sure about the facilities around your Rukita Co-Living in Setiabudi?
This series of articles are here to help you navigate around your vicinity. We have included places to get groceries, quick food/coffee fix, places to exercise, places to visit, etc, all within easy access from Rukita Setiabudi.
Read on to learn more about the area around Setiabudi to make your stay in Jakarta more convenient.
Rukita Co-Living in Setiabudi
Named after the Indonesian war hero Danudirdja Setiabudi, Setiabudi is a subdistrict in South Jakarta. It is located within the Golden Triangle of Jakarta, the triangular area of business and commercial establishments in Jakarta, hence an accessible location for your stay in Jakarta.
As the number one co-living provider in Jakarta, Rukita has 4 locations in the area of Setiabudi:
Out of the 4 of them, Rukita Taman Setiabudi, Rukita Pacific Setiabudi, and Alivio are closeby and hence the featured amenities are closest to them. They are still accessible from Setiabudi 3 although a bit further than the rest of them.
Convenience Stores
Need to run to get headache pills at 2 am in the morning? Here are your options.
1. Kelontong Mart – 1 min walk
This is a small convenience store that carries basic necessities. The variety of products carried is not great but this is a convenient stop that is about 1 minute away from Rukita Setiabudi 9 and 15.
It also carries a smaller selection of refrigerated drinks than the rest.
Kelontong Mart also has its own coffee shop right beside it so that is an added bonus.
2. Circle K (open 24/7): 3 min walk
This international chain from America carries more varieties of snacks and drinks. Also includes a slushie machine also known as Froster to help quench your thirst in Jakarta's hottest weather.
The best part is that it is open 24/7 which means it is your one stop for your late night cravings or emergency needs.
3. Indomaret Setiabudi 17 – 2 min drive or 6 min walk
The largest convenience chain in Indonesia with over 11,000 stores all over the country, Indomaret is guaranteed to cater to all your needs. It has its own line of products under its brand although it is located  further away than the previous two. If you do not mind the travel and if it is not very urgent, it is worth popping by.
Furthermore, if you do not feel like leaving the comfort of your accommodation, you can also use the very accessible Klikindomaret website or app to order necessities to your doorstep.
Food and Coffee
Transportation apps such as Go-Jek and Grab offer a food delivery service that allows you to enjoy food from anywhere in Jakarta without leaving your bedroom.
But if you want to change the scenery and eat out once in a while, here are some places you can go to that are within walking distance from Rukita Setiabudi.
1. Eunoia Cafe – 3 min walk
This dimly lit cafe has a rustic atmosphere. It serves Italian and Asian food as well as refreshments.
It is open till late and has wifi. It is also very affordable and costs about 60k rupiah.
It is the local's go-to place for a cup of coffee and a recommended late night hang out spot.
2. Bakso Rusuk Sunan Giri – 3 min walk
A humble chain eating house with over 8 locations all over Jakarta that is famous for their bakso, which is meatball noodles. It is pretty affordable at 40k per person.
Recommended to pop by if you are looking for a quick meal on the go.
3. Warung MJS – 3 min walk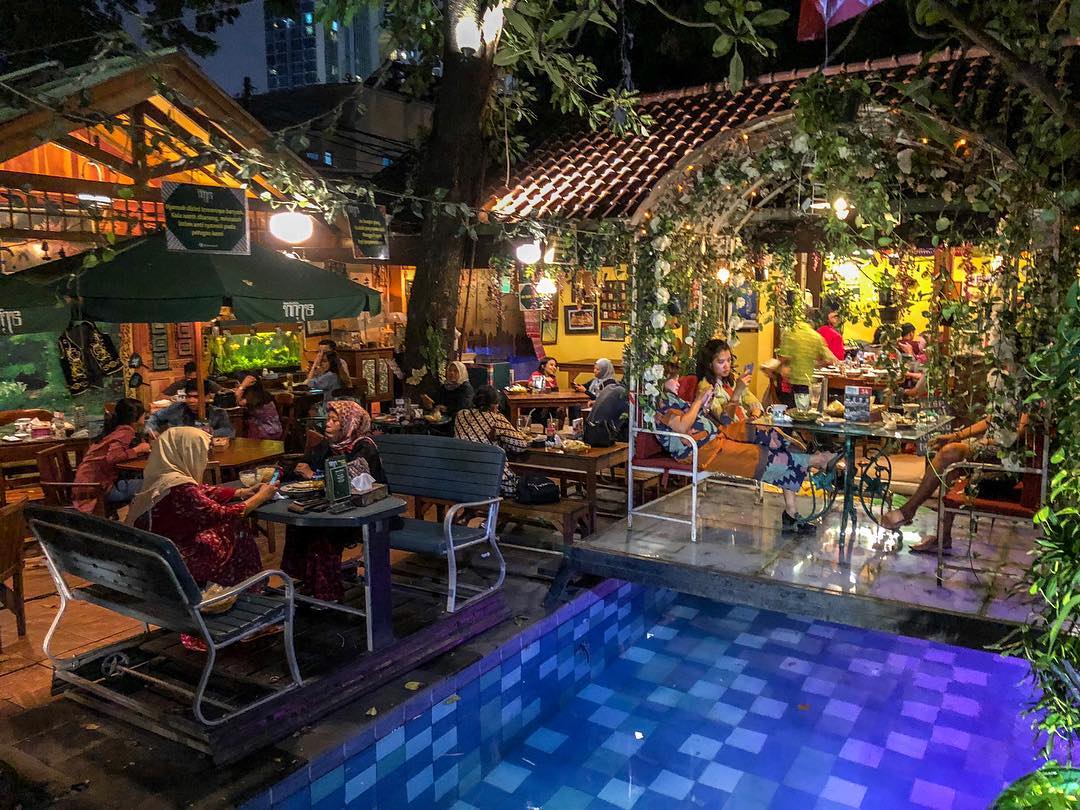 This beautifully designed restaurant offers a selection of Indonesian food with a surprisingly affordable price, between 50k to 100k per person.
As you can see from the picture above, the romantic setting makes this place a perfect spot for a date or casual hangout with friends.
4. Mie Aceh Bang Iwan Setiabudi – 2 min walk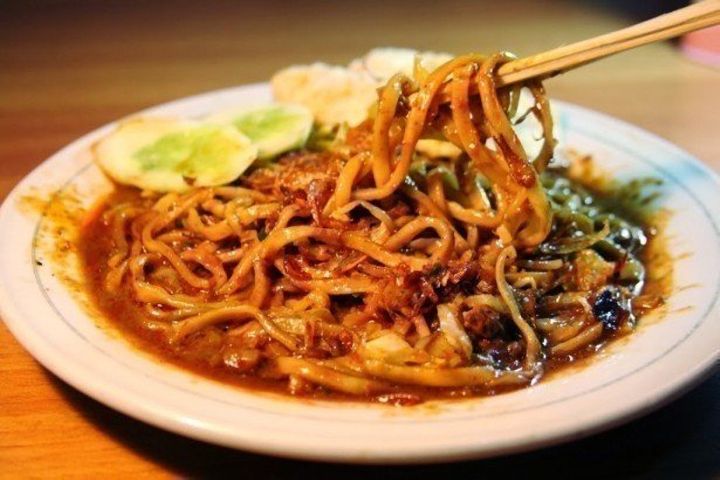 Mie Aceh is a noodle dish typical of Aceh, with a thick spicy sauce full of flavours. Lucky for you, the most popular Mie Aceh hawker vendor in Jakarta is located only 2 min walk from Rukita Setiabudi.
As mentioned, this is a street food vendor so don't expect anything fancy here. But it is clean, the seating area is quite spacious, and a plate of delicious Mie Aceh only costs you 20k.
5. Motto Kopi – 2 min walk
A quaint and well-lit cafe with comfortable seating that offers both coffee and food. Many of its patrons praise it for its great variety of coffee at affordable pricing. Do check it out if you are a coffee lover!
6. Hause Rooftop Bar & Restaurant – 8 min walk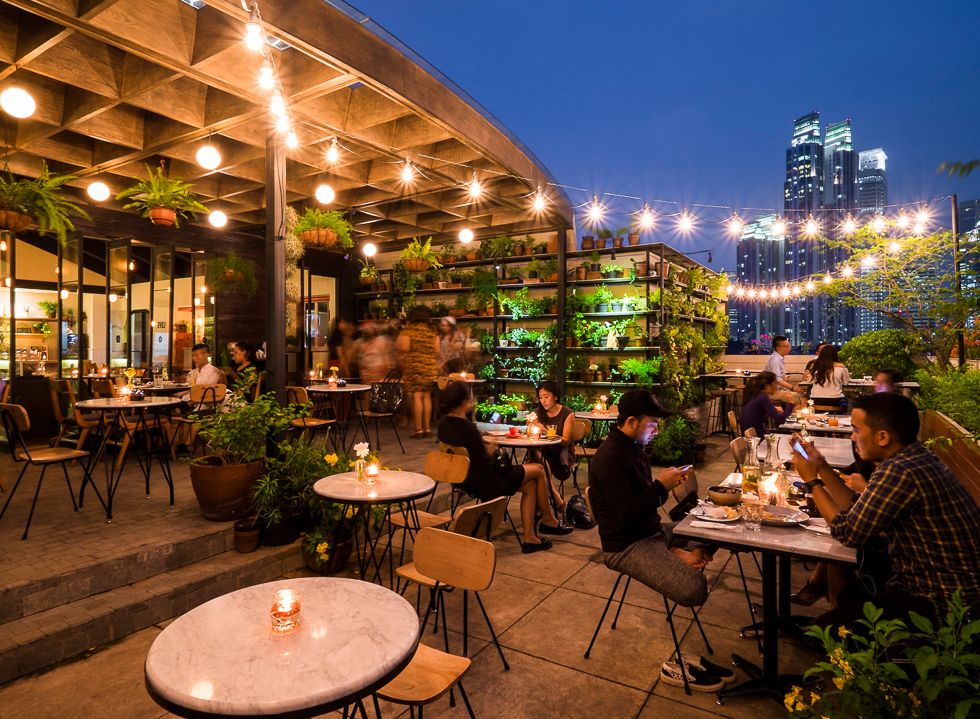 Looking for a place to drink and chill with friends on a Saturday night without having to battle Saturday night traffic? Hause Rooftop, one of the most popular bars in Jakarta, is only 8 minutes walk from Rukita Setiabudi.
Although this place is more known as a bar, they also offer quite a large variety of food menu so you can prep your belly with a hearty dinner before the cocktails come in.
Bear in mind that the price is here quite steep compared to other places on this list. Be sure to prepare extra money.
Places to exercise
Setiabudi is generally a quiet area where you can do your morning jog before the sun is in full force. If you want to do a proper workout, these are your options.
1. 20FIT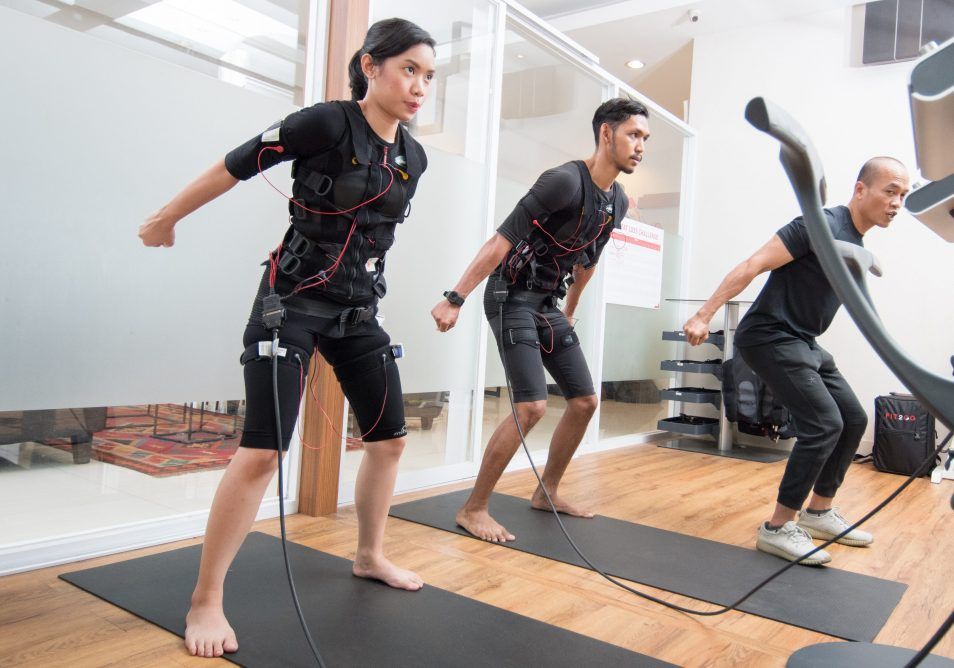 20FIT is a micro-gym that uses Elecro Muscle Stimulation (EMS) technology for personal training experience. They claim to give you the benefits of 2 hour workout with only 20 minutes of exercise.
2. Fitness First Grand Indonesia or Celebrity Fitness Plaza Indonesia – 5 mins with MRT or 22 min walk
If you are looking to exercise in a regular gym, Fitness First at Grand Indonesia and Celebrity Fitness in Plaza Indonesia is an option.
Walking to these places under Jakarta heat might not sound appealing (although you can do it if you're OK doing a 2 km walk), but you can take an MRT from Setiabudi station and get off at Bundaran HI station.
Bundaran HI station is located right in front of Plaza Indonesia entrance that takes you to Celebrity Fitness, or you can also cross the street to reach Fitness First at Grand Indonesia.
These international chain gymnasiums are equipped with an array of machines so you do not have to worry about your favourite machine being occupied.
They also come with various facilities like lockers and showers. Added advantage if you already have a membership.
3. Taman Suropati – 6 min drive or 25 min walk
If you are someone who enjoys a good walk or jog in the breezy open air then you can visit the nearest park at Taman Suropati.
An iconic landmark of Jakarta with its hill-shaped area, it is a popular hangout spot for residents as well as a beloved area for various forms of recreation. A beautiful scenic location definitely worth visiting, while clocking in those steps.
Getting Around From Setiabudi
Travelling by public transport might be confusing for those who are new to the city. But if you do decide to immerse yourself in the lifestyle of the locals and travel like one, here are the nearest public transport stations to take note of.
Railway:
Jakarta Sudirman Station – 24 min walk
BNI City station – 24 min walk
Bus:
Menara Astra – 7 min walk
Bumiputera – 7 min walk
MRT:
Stasiun Setiabudi Astra – 10 min walk
Other Conveniences
1. Laundromat: Rama Laundromat Kuningan – 3 min walk
Although Rukita provides free laundry services for up to two pieces of clothing per day, if you feel more comfortable doing your own laundry, you can always visit the nearby Rama Laundromat.
This is a trusted laundromat with 12 outlets all over Jakarta so you can expect quality service.
2. Police Station: Metro Police Setiabudi
The police station is just round the corner from the Kost and offers a feeling of added security to those new and unfamiliar to the area.
3. ATMs
Here are the nearest ATMs to hit up when in need of extra cash
ATM BNI – 5 min drive
ATM BII – 20 min walk
Also Read: Cost of Living in Jakarta for Expats
Categories
Tak Berkategori