Central Jakarta might be the smallest district in Jakarta but do not underestimate it by its size. After all, it is Jakarta's political and administrative centre.
From the legendary National Monument to various mosques, cathedrals and museums, it is home to some of the most iconic landmarks in Jakarta. No wonder it is the most densely populated municipality, with the most number of hotels in the city.
If you too would like to make Central Jakarta your home, without trifling away your money, then check out these super affordable apartments.
1. Menteng Park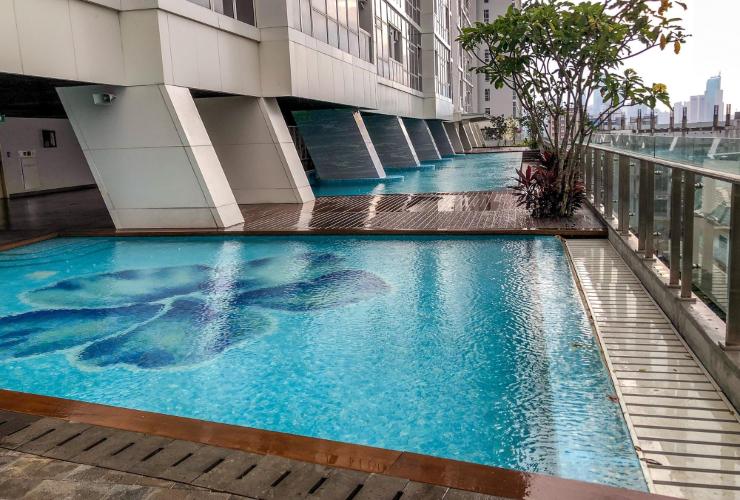 This relatively new apartment complex located in Cikini, a division of Menteng, is a joint venture between Singapore based builders Ong & Ong and Jakarta based Airmas Asri Architects.
Towering at 37 stories high, it is situated away from the noise and commotion of the main city and in a quiet neighbourhood. Smaller streets and the absence of tall buildings makes it a more comfortable and relaxing choice of location to stay at.
Conveniently located right at your doorstep is Taman Ismail Marzuki, Jakarta's Cultural Centre. Here you can find a XXI cinema, planetarium, galleries, a plaza and loads of delicious street food to fill up your stomach.
It is also a kid friendly place as you can bring your kids to the park to run around, instead of being stuck at home, within your four walls!
Overall, the interior of the building has a rather sleek finish to it and it comes with facilities such as a big swimming pool with both indoor and outdoor areas, a jacuzzi and jogging tracks.
For the foodies, you will be blessed here as it comes with its own rooftop cafe and garden, as well as food arcade where you will be spoilt for choices. This means you will never have to leave the comfort of your home to hunt for food.
Can it get more convenient than this? This is totally the perfect nest for the modern go getter who is in search of a cosy shelter.
Starting at just 5,590,000 IDR for a studio apartment, the following facilities can be yours:
ATM
Function Room
Jogging Track
Laundry
Security
Cable TV
Grocery Store
Internet
Swimming Pool
Restaurant
Playground
Fitness Centre
Sky Garden
2. Thamrin Residences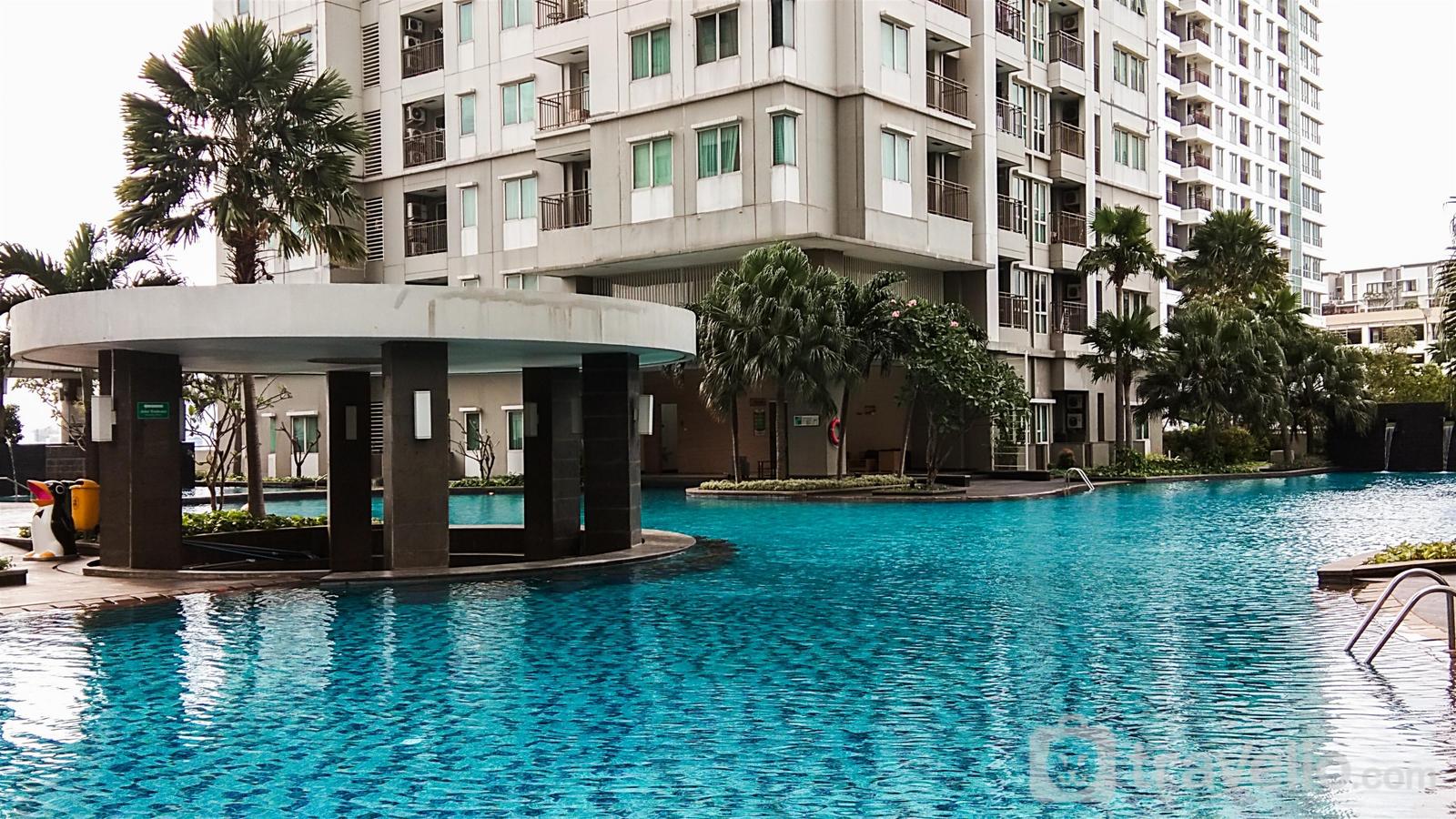 This residences is a popular choice among many renters and investors, especially expatriates and tourists, for its prime location within Central Jakarta. It is located at Tanah Abang, an influential trading and shopping vicinity.
The neighbourhood is filled with luxury malls and 5-star hotels, like Grand Indonesia, Plaza Indonesia, and Kempinski Hotel just to name a few. Not to mention the iconic Selamat Datang Monument in Hotel Indonesia roundabout that is only a short walking distance away.
Truly a neighbourhood fit for a king.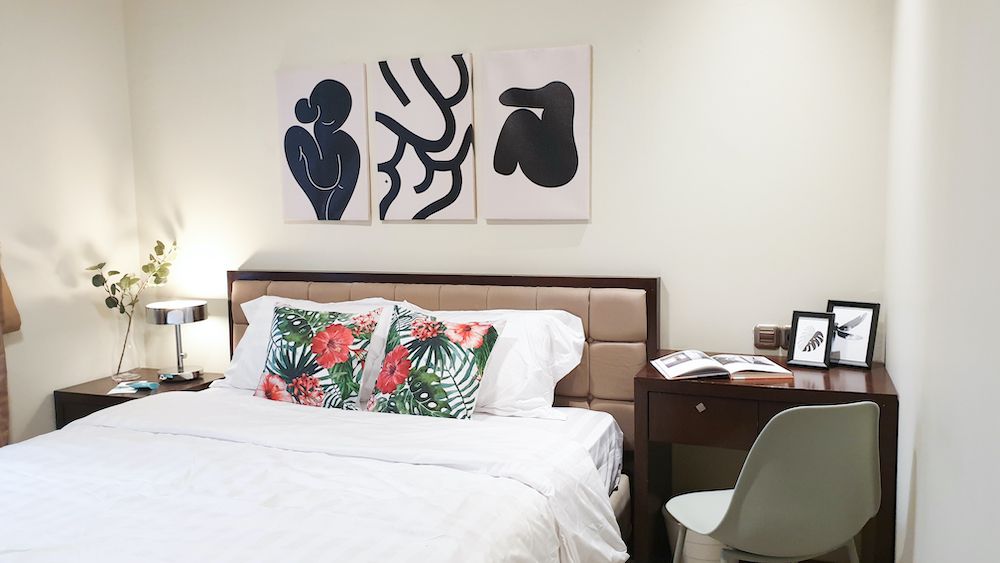 You can also visit Thamrin City for shopping as it just a block away. Here, you can find a Hypermart where you can get cheap groceries as well as all your favourite fast food chains to curb that craving of yours.
However, there is little reason for you to leave the residences in the first place, when you have two minimarts, a large market selling fresh produce and as well as numerous cafes and restaurants catering both local and foreign cuisines right here at the residences.
There are also many gardens and greenery all over the residence which gives it the added touch of tranquility. This is your best pick for an easily accessible home right in the heart of the city.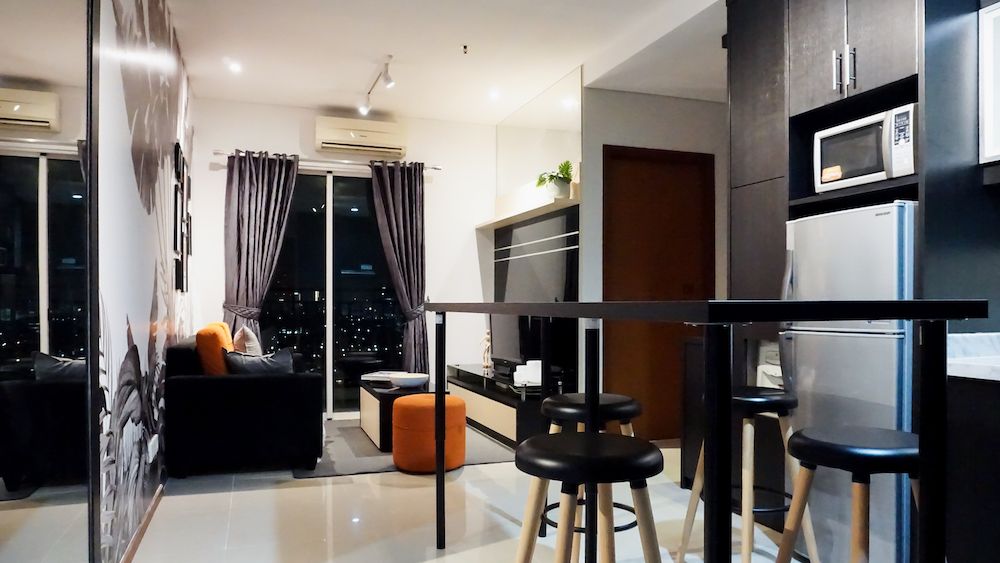 For just 7 million IDR per month you get to enjoy:
Swimming Pools
Tennis Courts
Basketball Courts
Gym
Sauna
Jogging Track
Restaurants& Cafes
Minimart
Playground
Laundry
Salon & Spa
Jacuzzi
Security
With Rukita, you have the option to book the entire apartment unit for yourself, or save money by renting a bedroom in a shared unit.
All Rukita units in Thamrin Residence all fully furnished and equipped with AC, water heater, cable TV, wifi, even laundry and cleaning service with no extra charge.
With Rukita, you can also pay monthly without having to commit to a one-year rent. Plus, the bill is all inclusive so no need to pay a separate electricity, water, or maintenance bill.
Click here to book a home with Rukita in Thamrin Residence apartment.
3. Sudirman Park Apartments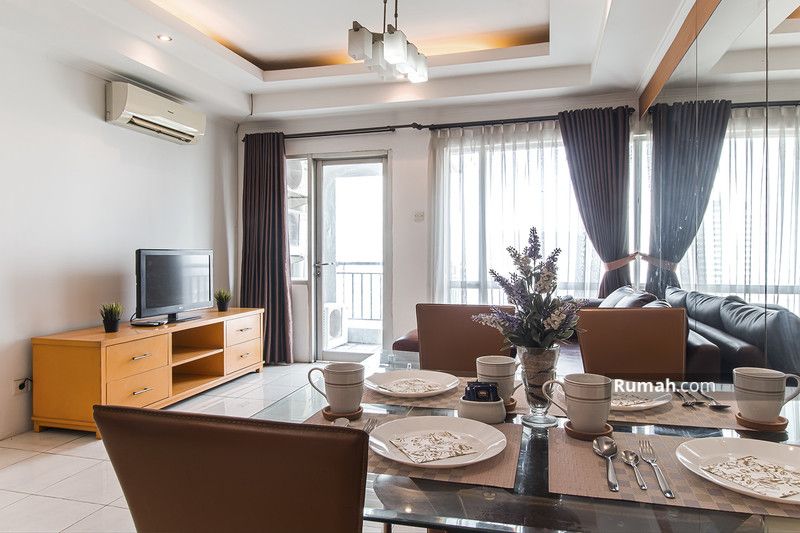 Perhaps the most budget friendly option out of the lot, but Sudirman Park Apartments is not short of quality or convenience.
Located at the strategic location of Sudirman Park in Tanah Abang, this popular apartment complex has residents ranging from students to young expats.
Its popularity is due to the convenience and accessibility of central business district of Jakarta and various amenities within walking distance.
In the building next door, you have CityWalk Sudirman which is a shopping mall with over 30 shops for shopping and dining. Other malls like Plaza Semanggi and Ambassador are only a few minutes drive away. Around the vicinity, you can also find various laundromats, Indonesian food vendors and fast food chains.
The apartment itself does not have an appealing exterior with its dull white paint finish. However, it does come with various facilities that even many of the other apartments do not include like a 24 hour clinic and minimart.
Whether you run of an ingredient whilst cooking up a late night snack or you fall ill in the middle of the night **touch wood** you will not have to leave your residence. To get the best value out of your money do check this place out!
For just 6.25 million per month for a 2 bedroom apartment, you the following are yours to enjoy:
ATM
Cable TV
Grocery Store
Internet
Swimming Pool
Laundry
Security
Basketball Court
Function Room
Gym
Jogging Track
Tennis Court
Restaurant
Playground
24 hr Clinic
24 hr Minimart
4. 1 @ Cik Ditiro Apartments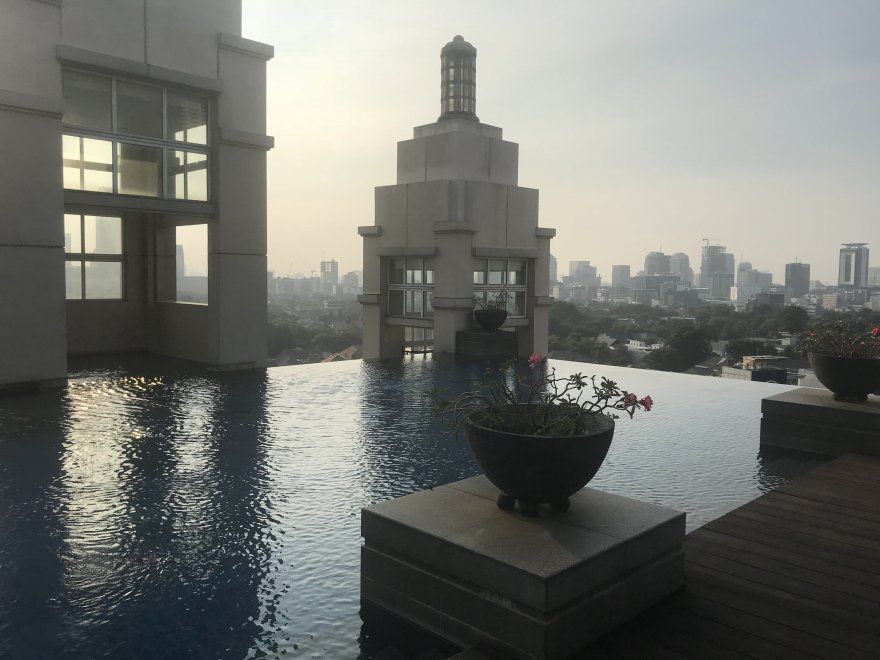 1@ Cik Ditiro is located in the prestigious neighbourhood of Menteng.
Here in Menteng is it common to find many "old money" Indonesians, high ranking government and military officials and expatriates, especially those working for embassies.
With few tall buildings, it is a stark contrast from the fast paced life in the CBD area. Which is perfect for those who seek a perfect hideout in the middle of the city.
Any foodie will appreciate living here as it is conveniently located close to the famous Lara Djonggrang and Arab restaurant, Al-Jazeerah. There are also many hipster cafes at Shophaus, an ideal spot for cafe-hopping.
Those with children will also appreciate its close proximity to some of the best high schools like Kanisius, Santa Ursula and SMAN 68.
However, the selling point of this location has to be its gorgeous rooftop infinity swimming pool from which you enjoy the stunning view of the Jakarta skyline while soaking in the water. Sounds like great way to unwind after a stressful day at work, don't you think?
Starting at 10 mil IDR per month, the you can enjoy the following facilities:
ATM
Function Room
Gym
Swimming Pool
Restaurant
Playground
Cable TV
Grocery Store
Laundry
Security
Swimming Pool
Picking a suitable place is no simple feat with so many factors to take in consideration. We hope that this would have helped you narrow down your choices enough to make a decision! After all, home is where the heart is so pick wisely!
READ: 6 Apartments in South Jakarta You Can Rent for Under 10 Mil Monthly
SHARE